It's the beautiful 1927 Singer 99K hand machine.
It has already featured several times in past posts - click on the right hand side of the page on the heading "Singer 99K" and you will recognise this machine. A
lso it appears on several of my Youtube videos. It is the clean machine of the two shown on the video about removing slide plates, and it is used on the video showing mitred corners on quilt binding.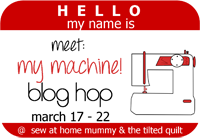 Last night I discovered a blog linky party hosted by Stacey Napier at her blog The Tilted Quilt
If you visit her blog you will find lots of links to other blogs where people are showing their machines - old, new, all sorts
- and the stories behind them.
So here is the story of this machine. It came to me out of the blue. A friend came up to me at church one Sunday and told me he had a machine for me in the boot. He'd just done a house clearance. The conversation went something like this:-
"I've got a machine for you if you want it."
"What sort is it?"
"Singer"
"What model?"
"Don't know, you'll have to tell me."
"Hand machine or electric?"
"Don't know."
"Is it a black one?"
"Don't know. Haven't taken the lid off yet."
This is where I started yelling in disbelief. We went to his car, and I was expecting a run of the mill wreck. When he opened the boot the first thing I spotted next to the case was the old foot pedal. Disappointment was about to take hold, and then I saw the hand crank, the genuine Singer part, not reproduction rubbish, lying on the floor of the boot. All was not lost. Then he took the lid off.
This is what the machine was like when I got it. It was a bit dusty and lacklustre, with a melted bobbin winder tyre (I've not seen the like before or since) and (to my eyes) the odd, unbalanced look that a machine has when it has been deprived of its handle.
Here is the rear view. The old motor is so ugly.
And here is the top view. You can see that the decals are in good condition. All this machine needed was to have the terrifying old motor and light taken off, the handle back on, and a thorough cleaning and oiling.
So it was time to make a video
, which is the sewing machine version of The Ugly Duckling.
This 99K is now one of the machines that I could not do without.
So a big thank you to my friend Phil, for finding it, and thank you to Stacey for hosting the linky party.
And hello to the latest follower, Deb. Thank you for joining!